As for its production programme the Company is specialised in the production of cylindrical components with winding intended for electrotechnics: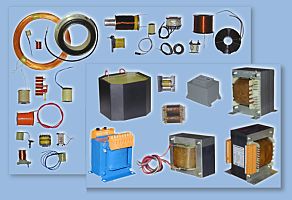 coils for ferrite cores of type
E, EFD, ER, ETD, EC, EP, U, RM, SK


chokes, distribution, separating and transmission transformers with sheet cores of type:
EI, E, EE, ED, EK, L, LL, M, MD, PM, UA, UI


special types of cylindrical coils including self-supporting coils


All coils of these types are wound up on Swiss-made machines of the brand METEOR with the winding width 0,2 to 200 mm, winding diameter up to 120 mm and made from wires of diameter 0,036 to 1,8 mm. Transformers with input power up to 500 VA.
According to the client's requirements we shall elaborate the calculation of the assigned product parameters and manufacture the specimen product for verification before the beginning of series production.

The wound up components are completed to get the final execution in compliance with the client's requirements, i.e. with optional execution of the coil conductor ends - soldering of taps, lagging, encapsulation, potting, etc.

All components with windings can be - if required by the client - vacuum impregnated with high quality to ensure a higher puncture strength for temperatures up to 180 °C.
If required, the components with winding can be potted in a self-extinguishing material ensuring increased electrical and sound insulation property from the ambient environment.
All wound up components are manufactured of high-quality materials delivered by renowned European producers. We are capable to meet any requirement of our clients corresponding with our technological possibilities.
Naturally, all components manufactured are subjected to final quality control. To meet the clients' wishes we will test the puncture strength of the winding up to 6 kV.
We are paying our utmost attention to the whole job: from the entry of the client's inquiry till the dispatch of finished products, we are looking after the quality constantly. Our credo: the highest satisfaction of the client. Therefore, we ensure a prompt presentation of the offer, high quality of work from the inquiry entry and throughout the processing of the offer and performance of the order, we guarantee short delivery terms, favourable prices and a good customer service.
In the present time, you will find our clients in Germany, the Netherlands and in the Czech Republic.